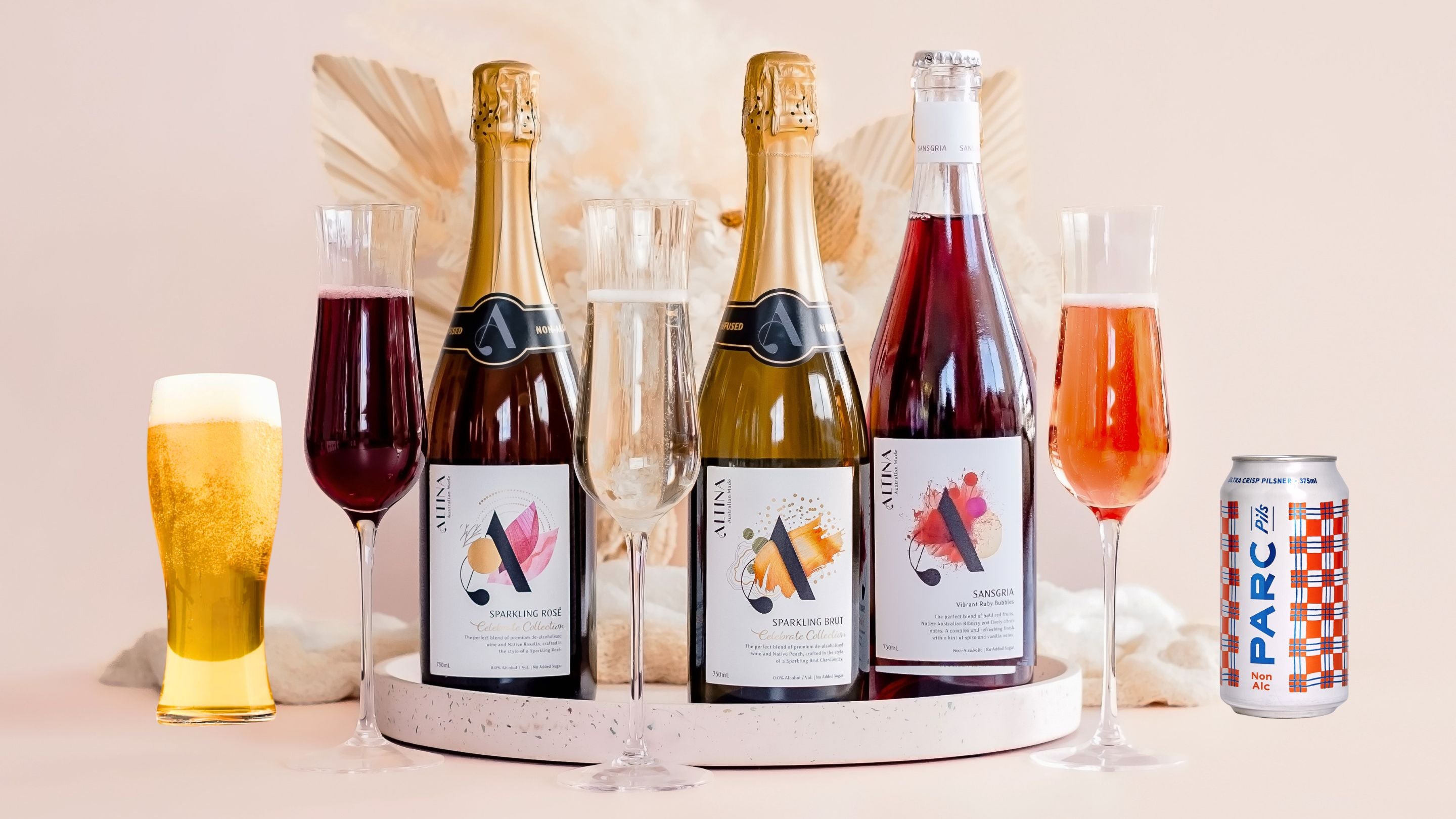 Discover a World of Elegance, Joy and Sparkling Moments
Welcome to ALTINA's Celebrate Collection - a curation of three non-alcoholic sparkling wines that redefine celebrations. A tribute to life, togetherness, and the joy of raising a glass to moments that matter.
Crafted with premium de-alcoholised wine and infused with Native Australian botanicals, our Sparkling Brut, Sparkling Rosé, and Sparkling Sangria are designed to elevate every occasion. Pop the cork and let the festivities begin!
ALTINA Sparkling Brut - A Toast to Elegance
Crafted in the style of a Sparkling Brut Chardonnay, this non-alcoholic masterpiece boasts top notes of Native Australian Peach (Quandong) and strawberry, supported by a bright acidity and toasty vanilla undertones.
ALTINA Sparkling Rosé - An Ode to Joy
Delight in its rosy hue and layered notes of bright crunchy fruit, tart native Rosella, and a hint of citrus. A non-alcoholic drink that dances on the palate with crisp, lively bubbles and a dry finish.
ALTINA Sparkling Sangria - A Fusion of Flavors
A celebration of bold red fruits and native Riberry, delicately layered with sweet orange. The refreshing bubbles give way to a complex and invigorating finish, boasting a hint of spice and vanilla. *Please note this currently has a crown cap, not a cork*.
PARC Pils - The Epitome of Refreshment
Brewed in the timeless Czech style, this non-alcoholic pilsner is a super fresh, pale lager that embodies crispness and a clean, refreshingly bitter taste. Bursting with bright character and aroma, it's the best non-alcoholic beer for those seeking an easy-drinking craft beer experience.
★★★★★

I love your Sav Blanc, but this sparkling is next level. I could enjoy a whole bottle of these bubbles to myself.

Narelle W.

Sparkling Brut
★★★★★

Very hard to get the taste right for non-alc beer and Altina have hit the nail on the head with this one. Well done!

Justine O.

Parc Pilsner
★★★★★

This is truly a very special Rose. There is a lot to love about these bubbles, it has a fruity aroma, with a wonderfully complex flavour and a glorious colour in the glass.

Lizzie S.

Sparkling Rose
★★★★★

Sansgria is turning me into a non-alcoholic alcoholic! So unbelievably good. My favourite non-alc drop across all types. I have to stop myself from opening one every night!

Sally B.

Sansgria